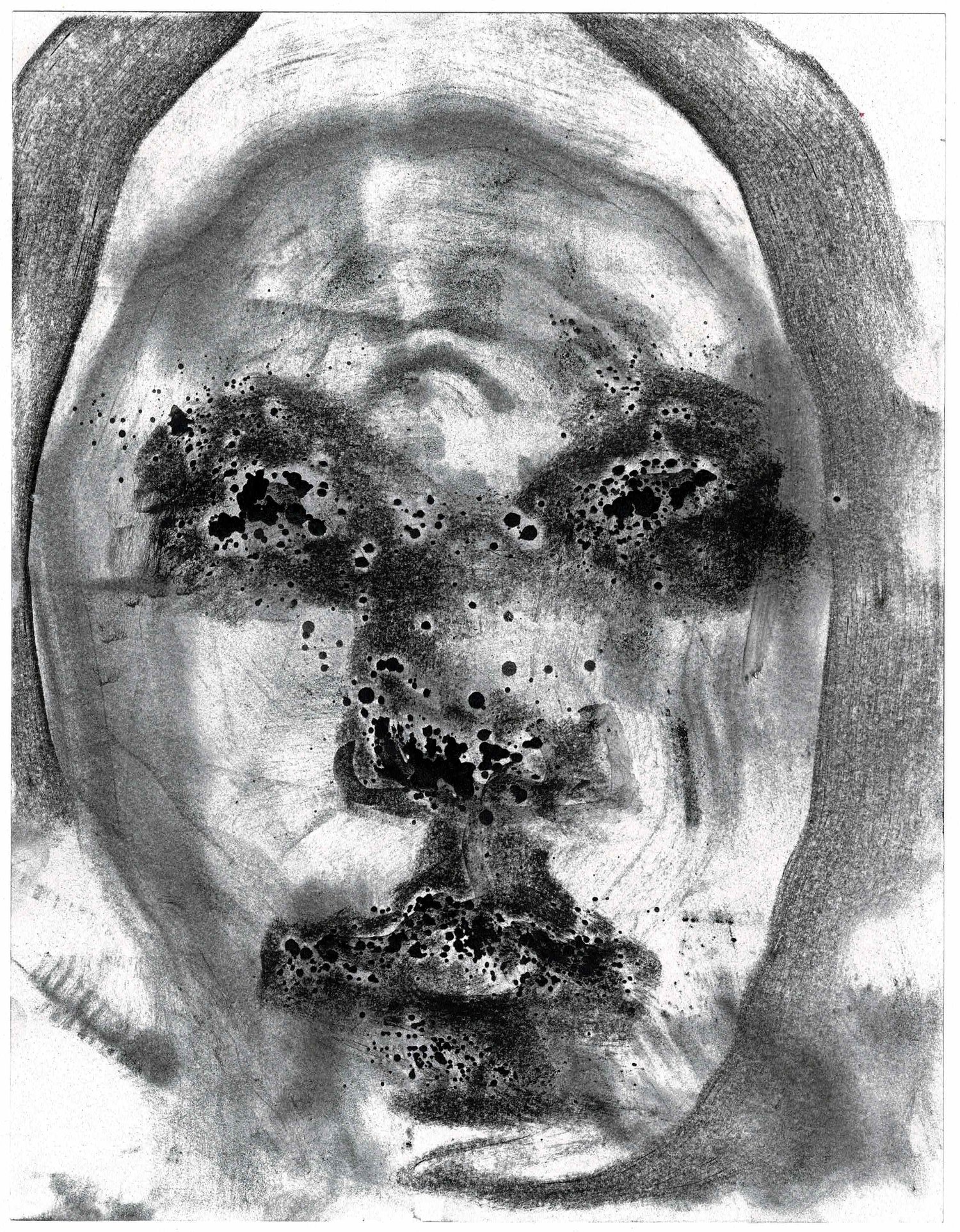 Graphite, Charcoal and Acrylic on Paper
11 x 8.5 inches (unframed)
Since the beginning of the year, I have been working on dozens of mixed-media portraits. These are mostly graphite, charcoal, pastel, and acrylic. Many of these drawings combine all media and also use collage. After a couple of years of unrecognizable figures, heads and faces are returning to the work with full force.
As a tangent to my Self-Care series, I have been thinking about figures that emit, radiate, diffuse, block, or absorb light, hence, light and shadow beings. These are also linked to my interests in figures representing the seven lights and using the rainbow as a symbol of inner light. Before jumping into color, I wanted to work in black and white and see how these figures convey their light through a more limited palette. I have created over 100 drawings so far, and my goal is to complete 500 by the end of the year.
Challenging myself through the medium has been exciting by keeping other parameters constant. All drawings depict heads and faces; so far, they are all vertical, 11 x 8.5 inches, although I plan on working on other sizes. Some are just graphite; others combine various mediums. Many are a combination of faces created through imagination and memory; some are inspired by Greek, Egyptian, and Roman classical sculptural heads, and others I have literally printed my face on the page. The drawings that don't excite me get cut up and collaged into other pictures. I am continuously thinking of light beams, glows, shadows, sparks, wind, fog, movement, and stillness and how all these different factors affect light.
These light beings are shapeshifters in a continuous state of transformation, sometimes becoming a familiar face, other times a memory, a specter, or a reflection of ourselves or who we could be. I look forward to continuing their evolution.
---
Please note:
All drawings have been fixed with several layers of professional fixative, but they are still fragile in that one should not scrub the surface with their hand/ fingers. These drawings will be shipped in a rigid mailer with a cardboard backing inside a protective plastic sleeve. The paper used for this series is 100lb thick, 100 bright, acid-free paper.
Shipping and Payment:
Purchase includes free shipping in the US. This includes tracking. If you need overnight shipping this will require an additional cost. There is a $25 flat fee to ship anywhere else in the world. Please note that international tracking and insurance requires an additional cost. Please be aware of custom restrictions or fees in your home country. My shop accepts credit cards and PayPal and it recently began to offer the option of paying in installments either through Apple Pay or Pay in 4. More details at checkout with these options.