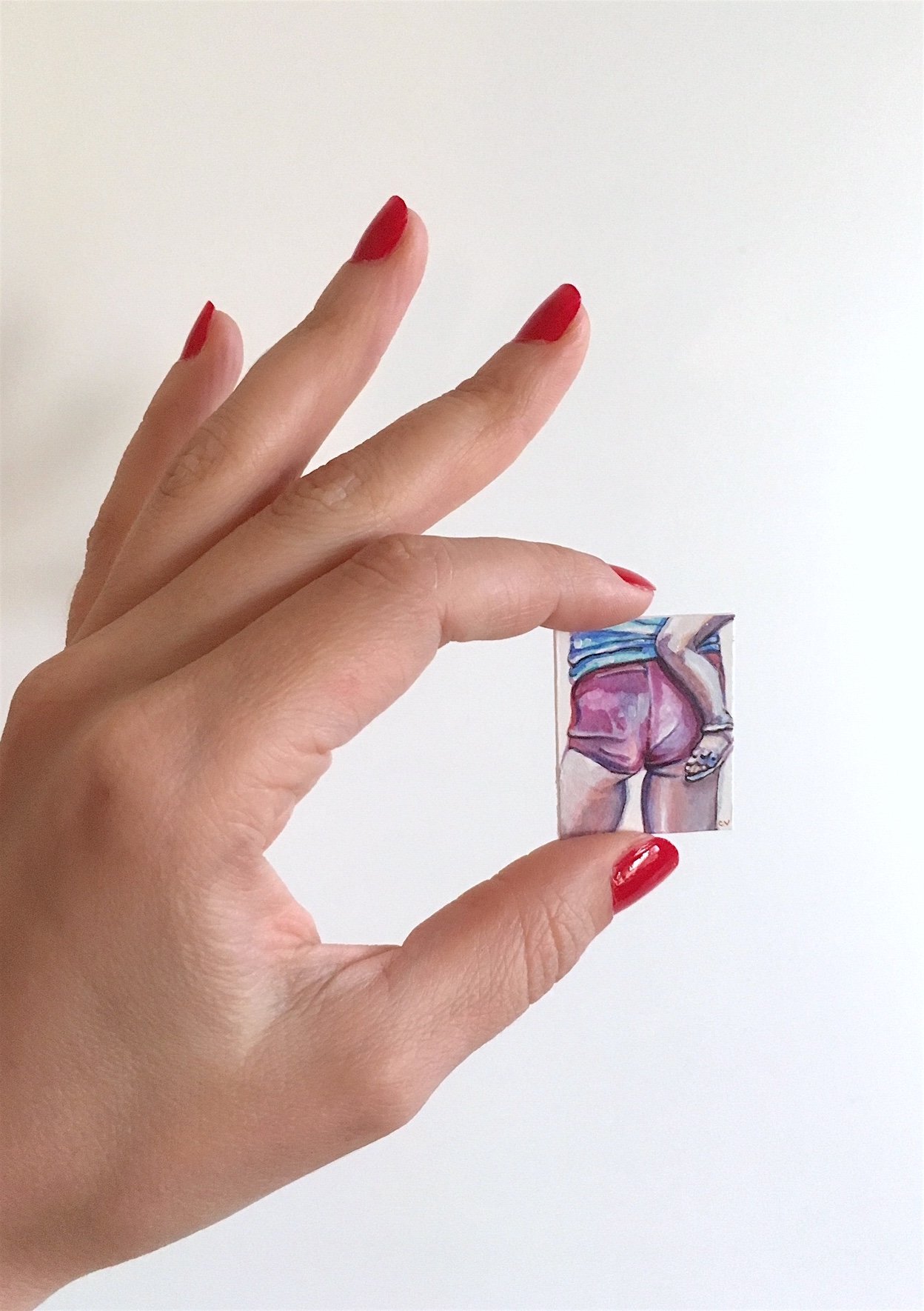 Acrylic on Museum Board
6" x 4" Framed
_________Press Release Excerpt from "A View of the End" Exhibition____________
---The miniature paintings average 2 x 2 inches in size and mostly depict the derrieres of female celebrities. At the core of this body of work is Viejo's continued interest in the themes of voyeurism, the female body and the taboos of viewer boundaries. Viejo's paintings depict celebrities from candid viewpoints that render the subjects almost unrecognizable, in situations that contrast significantly with the staged glamour of magazine spreads.
The back of the miniatures include one or two headlines that were on the first page of google when researching each celebrity's butt. Some of the titles are humorous, others absurd and some are very weird when taken out of context.
The female celebrities seem to believe they are alone or in intimate settings among family or friends. Viejo says; "Many of the image references I use for the paintings are often grainy and it is clear to me that the paparazzo was at a great distance, probably using a powerful camera lens so he would not be detected by the celebrity." Although they initially evoke humor, the images become awkward, reinforced by the often unflattering poses captured. Viejo continues; "I have always been very interested in the permissions we give ourselves in regards to our voyeuristic impulses, especially in regards to women's bodies." The miniature scale of the paintings contributes to the sense of intimacy and encourages an up-close inspection, allowing the viewers to become their own version of an undetected paparazzi. Pissarro notes that "The original reason why miniature paintings were created was that they were portable; you could carry with you a small portrait of someone you loved. I like the idea that someone can carry their favorite celebrity butt around."---
_______World Wide Press______
Check out the following articles written by various media around the world covering Viejo's miniature celebrity butt paintings.
*The Brooklyn Paper, USA*
http://www.brooklynpaper.com/stories/38/15/24-butt-paintings-2015-04-10-bk_38_15.html
*Vanity Fair, Italy*
http://www.vanityfair.it/news/mondo/15/04/18/celebrities-miniature-fondoschiena-dipinti
*El Universal, Mejico*
http://www.eluniversal.com.mx/espectaculos/2015/traseros-famosas-artista-pintura-1092115.html