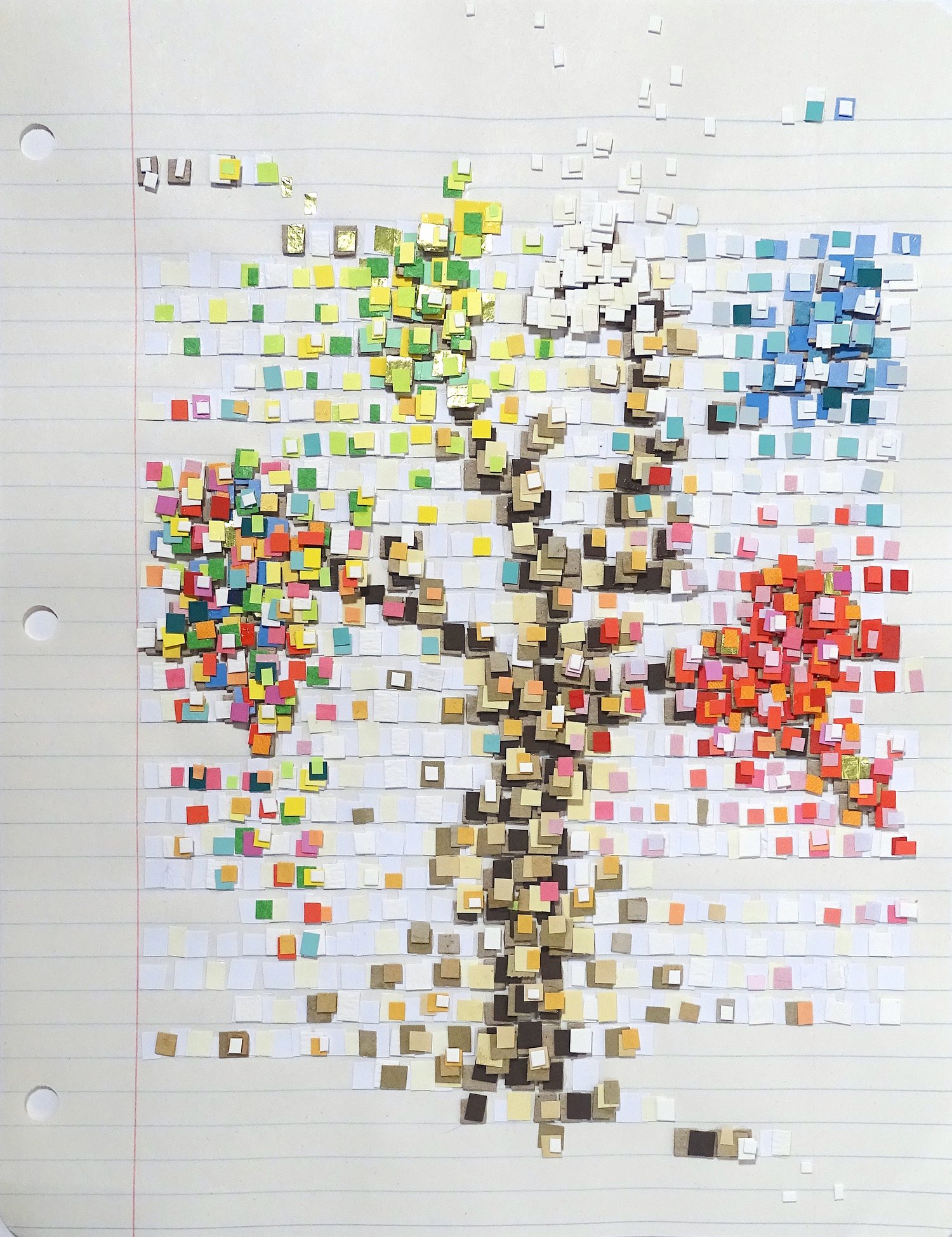 Letter to New Opportunities
11 x 8.5 inches
Collage on Paper
Letter to New Opportunities was made at the beginning of the year to set a tone for the rest of the year. This letter resembles a tree and as I was making it I thought of Sylvia Plath's fig tree, in which she sees each fig representing a goal or desire of hers. In Plath's fig tree, the figs drop to the ground and she is unable to choose any. In my tree; reds flourish representing love and relationships; multicolor squares vibrate to convey creativity and positive energy, greens and golds shimmer to bring success and wealth: blue brings mental and physical well being and health and white brings light and connection into our deepest selves.
Here is the statement for my letters in general:
LETTER COLLAGES
The hand-written letter is an intimate form of communication. To take the time to focus on writing a letter expresses a sense of caring for the recipient and deepens the intimacy between writer and addressee. The letter presents a tactile experience which invites sensations and emotions in the reader. A letter becomes a moment captured forever, a historical record, and has an innate sense of permanence inviting re-reading and reinterpretation over time.
Each of my collages is a letter composed in color, form and pattern.  The recipient of a letter might be real or conceptual; a person, a feeling, a place, an idea.  I consider what I want to say and to whom I'm saying it. Instead of communicating through text I translate my thoughts and emotions into an arrangement of shapes and colors. I cut and glue each individual piece of paper, building "sentences" and "paragraphs" until a fully formed letter develops.
My aim is to establish a connection with the viewer by transforming the nature of an enduring tradition that has been so integral to human relationships. By choosing to replace the discursive and literal qualities typical of written language with a more abstract and intuitive form of communication, I hope to create an intimate relationship through the exchange of real emotion and human presence, and encourage the viewer to feel more alive.